ATTENTION Returning Cadets – Annual Validation Forms
Cadets must return their Annual Validation forms by Thursday November 30. Cadets who do not return their forms in time, won't be able to participate in squadron activities in December. Forms can be returned to our Admin Officer CI McLean by email at kirsty.mclean@cadets.gc.ca.
Mess Dinner December 15
Get ready cadets! Our Mess Dinner is Friday December 15. This is going to be a super fun evening. We have lots planned for you.
A Mess Dinner is one of the most coveted and important traditions of the Canadian Forces. It is a time to appreciate the comradeship and company of fellow service members and guests and to savour fine cuisine in an elegant setting. Tradition remains to this day one of the prime ingredients in air cadet esprit de-corps.
Mess dinners originated about 200 years ago, the purpose being the same then as it is now: to afford the opportunity for seniors and juniors to meet on a friendly but formal occasion; and, to enable the Commanding Officer to speak to his squadron as a group. The traditional formality of the dinner fosters a fellowship which would be lacking at less formal functions.
Keep at eye out for registration.
Date: Friday December 15, 2023
Time: Around 6 pm
Location: CFS Leitrim, 3545 Leitrim Rd
Dress: Order of dress is C2. 
Biathlon
We will have our first ski practice this Saturday December 9th. We will be joined by Squadron 706.
Location: Gatineau Park – P9
Timings: 8:30-11:30
If you have not filled out the equipment request form please do before Friday night, if I do not receive your measurements, I will not have skis for you and will assume you no longer want to partake in Biathlon. If you have your own cross country skis (skate skis) please note that on the form.
You must have a hat, or you will be sent home. Please dress for the weather! 
We will begin weekly ski practices during the week, please fill out the form below with your preferred night:
Important Dates:
Rifle days: December 16, January 13 and January 20 
Rifle days timing: 7:00 am to 1:00 pm
Rifle Practice Location: Map to Rifle Location at Camp Fortune
Regionals: Jan 27-28th 2024 (Camp Fortune, Chelsea, QC)
Provincials: Feb 16th-18th 2024 (Val Cartier, QC – Transport & meals provided) 
It is very important that you attend all 3 rifle days so I can ensure you can safely handle a rifle, if I am not comfortable with you handling a rifle you WILL NOT be permitted to race, NO EXCEPTIONS. 
Please bring a toque and gloves, if you are improperly dressed for the weather, you will be sent home. You may also bring snacks and a drink. If you are unable to make it please let me know.
Please check your emails and the squadron Event Calendar prior to leaving to come to practice, there may be last minute cancellations due to inclement weather or low temperatures.
Interested in joining the team? Fill out the Biathlon Registration Form
Officer in charge: CI Isla McLean
Squadron Activities and Registrations
Want to know what's happening? Need to register to an activity?
All squadron activities are posted in the squadron's event calendar. Visit the calendar daily for activity updates and links to the registration forms.
Squadron's calendar: Event Calendar
Congratulations Are in Order
Qualifications
Some very excited cadets were awarded their marksmanship level badges Tuesday night December 5th. These cadets came out to marksmanship practices every Sunday and worked hard to achieve these levels.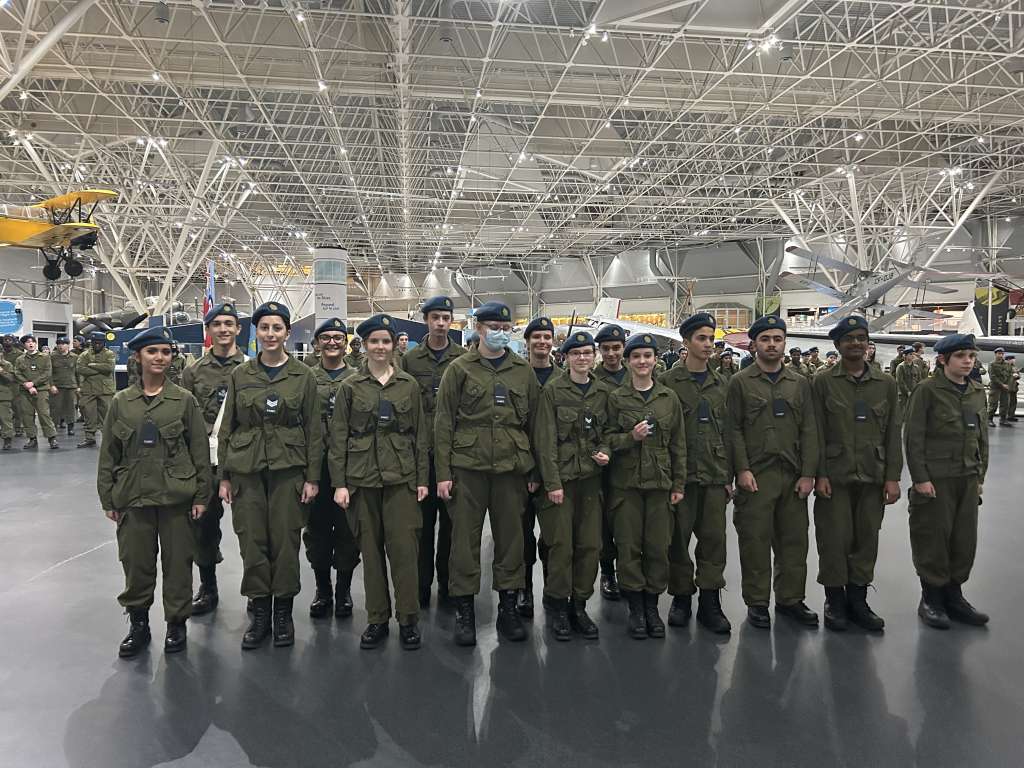 Level 1 Marksman – Shot five pellets within 3 centimeters
Cdt Daniela Ascanio
Sgt Elena Ginblat
Cdt Robin Haultain
LAC Celeste Lockhart
Cdt Kevin Mounzer
 
Level two First Class Marksman – Shot five pellets within 2.5 centimeters
 
Cdt Micheal Francis
Cpl Ayan Hossain
Cdt Sankalp Reddy
 
Level 3 Expert Marksman – Shot 5 pellets within 2 cm
 
Cdt Malak Dinouri
Cdt Christian Guerette
LAC Afra Hossain
Cpl Camille Lalonde
Cpl Cloe Roussel
Cdt Mateo Schable 
Level 4 Distinguished Marksman – Shot 5 pellets with 1.5 centimeters
 
Cpl Maria Dib
Sgt Fadi Hazi
Sgt Sarah Hazi
Cpl Neave O'Hanlon
Promotions
Join us in congratulating the following cadets who were promoted on Tuesday December 5th:
Promoted to LAC:
Thea Faruquee
Hong Duc Ngo Tran
Promoted to Cpl:
Leo Lequain
Promoted to Sgt:
Sarah Hazi
Fadi Hazi